1. 'More Ketchup than Salsa' by Joe Cawley

Area of the Canary Islands: Tenerife
Story Synopsis: Some people dream of trading in the cold, wet British weather for the sunnier and warmer climes of the Canaries.
Joe is one such dreamer. He and his girlfriend Joy pack up and leave Lancashire to run a bar in Tenerife. Their dreams and reality couldn't be further apart.
Between incidents with some strange locals, dealing with loud Brits on holiday and starting a bar, Joe and Joy's idyllic hope of life under the sun turns out to be much different than they could ever have imagined!

A fun fact about Tenerife: Mount Teide, located on Spain's most populated island, is the world's third largest volcano.
2. 'Lanzarote' by Michel Houellebecq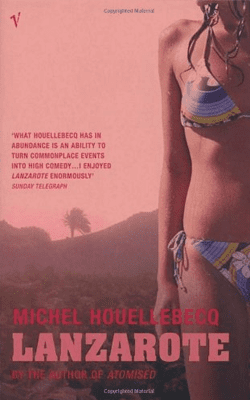 Area of the Canary Islands: Lanzarote
Story Synopsis: To avoid the potentially disastrous New Year, our main character makes his way into a Travel Agent to book a getaway.
He is persuaded into travelling to Lanzarote, sold to him as 'an island full of 21st century hedonism'.
There he runs into all sorts of bizarre and fascinating characters, from Pam and Barbara, the lesbians on a mission to seduce a police inspector from Luxembourg to the members of a millennial alien cult.

A fun fact about Lanzarote: The emblem of Lanzarote is a demon because early settlers interpreted their first experience of a volcanic eruption as the work of the devil.
3. 'Deep Black: Death Wave' by Stephen Coonts

Area of the Canary Islands: Various
Story Synopsis: When a ship carrying twelve nuclear war heads disappears in Central Asia, Deep Black, a secretive unit of the NSA is sent out to find them.
Their leader Dean and his hand-picked unit follow the trail to the Canaries.
They uncover a sinister alliance of international terrorists who plan to use the bombs to trigger an enormous tsunami that will wipe out the east coast of the US. Time is running out.

A fun fact about El Hierro: El Hierro was once believed to be the most western part of the world.
4. 'Following the Rainbow' by Ben M. Baglio

Area of the Canary Islands: Various
Story Synopsis: A children's illustrated book in which the young Jody McGrath travels with her family to the Canary Islands to research dolphins – her favourite animal.
Unfortunately, she discovers that many dolphins are being injured by ferries and boats that travel between the islands. Jody sets out on a mission – to protect the animals.
A fun fact about Fuerteventura: The American Ocean Liner SS American Star beached itself on the island in January 1994.
5. 'Tenerife: Tall tales' by Tony Thorne

Area of the Canary Islands: Tenerife
Story Synopsis: This collection of science-fiction short stories is part of a trilogy and won the top award in the New York Beach book Festival.
Each of the 17 tales are set in Tenerife and explore strange and mysterious happenings, both above and below the ground.
A fun fact about Gran Canaria: In 1492, Christopher Columbus spent time anchored here before his first trip to the Americas.
6. 'Canary Island Song' by Robin Jones Gunn

Area of the Canary Islands: General vicinity
Story Synopsis: Carolyn, a widow, has been left alone following tragedy in San Francisco. After a little encouragement from her daughter, she decides to make for the Canary Islands, where her mother lives, in a bid to escape.
Arriving there for her mother's 70th birthday, Carolyn runs into Bryan Spencer, an old high school love. In the beauty of the islands, she rediscovers herself and the fullness of life.
A fun fact about Chinijo Archipelago: Chinijo Archipelago actually consists of several tiny islands only inhabited by 658 people.
7. 'Too Much Trouble In Paradise' by Michelle Betham

Area of the Canary Islands: Tenerife
Story Synopsis: This romantic comedy tells the tale of Molly Parker, an ex-wife to darts player Paul 'Bad Lad' Parker. Determined to start afresh, Molly travels to Tenerife.
Within months she meets Antonio and they plan a wedding. But, who should turn up weeks before they tie the knot? – A determined Paul, looking for a second chance. Molly's got some big decisions to make.
A fun fact about La Gomera: Original inhabitants of the island would use a whistle language to communicate in the deep ravines, which can be heard two miles away.
This article was contributed by Love Reading; an online book supplier passionate about bringing your favourite reads directly to you!